During the recent Christmas season, stargate transits were definitely trending in the cable TV programming. I was led to produce some videos of commercials, and here's another, advertising the Mitsubishi Outlander Sport. It's a casual looking production, but the scope and scale of Occult layering is impressive. So much so, that even in this twilight hour of the age, it's on this presentation that the Lord has me steadfastly focused.
Outlander Sport (Pt 1) - "Falcon Rescue" as raising Osiris into Horus
Mitsubishi's Falcon Rescue commercial is about the rescue of Horus from his place of exile, releasing him back into our dimensional realm. That's a picture of the revealing of the lawless one, 2 Thessalonians 2. Included in this commercial are the manipulations that prepare the world to receive him, which we already see at work in the news.
Don't you think it was a little strange that the staffers at Charlie Hebdo were slaughtered as if it was a St. Winebald Day ritual sacrifice? What's behind that, and all the racial violence that has to be seen as related? We're being managed, toward the goal of uniting us under one king, the false messiah.
Just before a fraudulent savior will conveniently appear on the scene, saints who consider themselves too well informed to fall for such a fraud will be hoaxed, and will indeed fall for it. Doubt it? Watch the video and see it dramatized, again.
According to 2 Thessalonians:.
1 Now we request you, brethren, with regard to the coming of our Lord Jesus Christ and our gathering together to Him, 2 that you not be quickly shaken from your composure or be disturbed either by a spirit or a message or a letter as if from us, to the effect that the day of the Lord has come. ~ 2 Thessalonians 2:1-2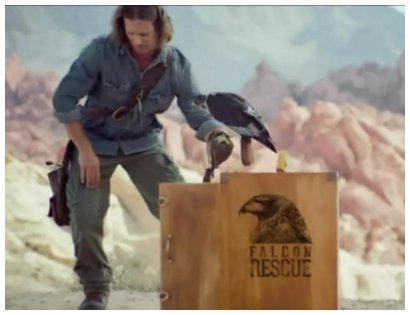 The text goes on to make the point that the day of the Lord, with our gathering to Him, has not yet come, and we're assured that it won't until after we see a sign, actually two signs in tandem. The main sign is the revealing of the lawless one himself, in Mitsubishi's allegory, the Falcon Rescue, and the other is related to it as a prelude and segue. An epic hoax is appointed for our near future that will quickly shake saints from their composure, and they won't recover until they have suffered substantial loss for the failing of their faith. What's going to be targeted is our hope in the promised reward for obedience that comes with resurrection, and a joining with our Bridegroom.
The Mitsubishi commercial spills the beans on how we're going to be presented with the illusion that the Messianic Bride and Groom already married and left on their honeymoon. Obviously then, the conclusion is that we missed out. It already happened. We're going to be shown a vision like a mirage, a distorted image that will deceive many. As I have written on The Open Scroll, with extensive and some very technical documentation, we should expect an impressive kind of multimedia - multisensensory - multidimensional vision that will be experienced around the globe. This almost irresistible projection, through time itself, will engage and convince the world that the only hope remaining is in a savior that is about to manifest and show himself to be god. The display will be quite real but yet unreal, an edited version, a fraudulent fabrication that will come with supernatural delusion, and the lies will be accepted by the vast majority as if it is undeniable proof.