We're still in the watch season for first century signs, according to the esoteric principle of Psalm 90:4. We've reported some (
Yom Teruah - The Initial Watch Report
) but most of what we've seen hasn't been reported yet. We still hope to get to that. Meanwhile, we'll address the latest signs.
Here's the projection into our calendar.
64 AD >> October 26, 2016 | Apostle Paul's and Apostle Peter's Death
70 AD >> October 28, 2016 | Seige of Jerusalm and destruction of Temple by Rome (Titus)
73-74 AD >> October 29, 2016 | The siege of Masada
100 AD >> November 8, 2016 | Apostle John's death
With regard to the destruction of Jerusalem by Rome, we have a sign. Earthquakes used to be called, acts of God. Jerusalem is known as the city where God dwelled or had his throne.
Powerful earthquakes hit Italy shaking Rome's ancient ruins 'including Colosseum and Pantheon'
The epicentre was in countryside 80 miles from Rome.
Leading up to that: Published: October 20, 2016 :
BATTLE SITE FOUND WHERE ROMANS BREACHED JERUSALEM WALLS - Discovery confirms Josephus' account of conflict nearly 2,000 years ago
Here's another article about the earthquakes.
Gone in 16 seconds: The devastating moment a 700-year-old church crumbles into dust as two immense earthquakes bring fresh heartache to Italy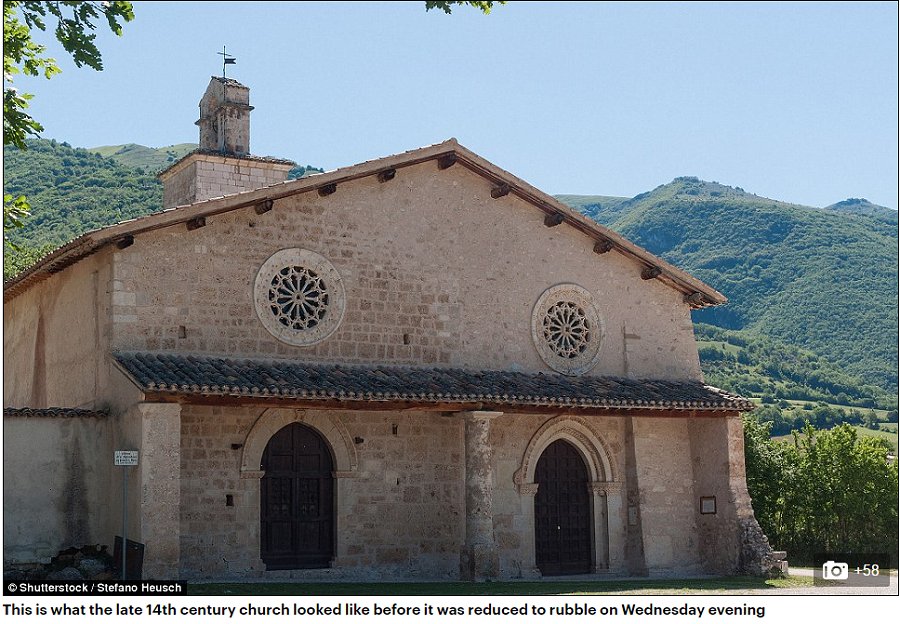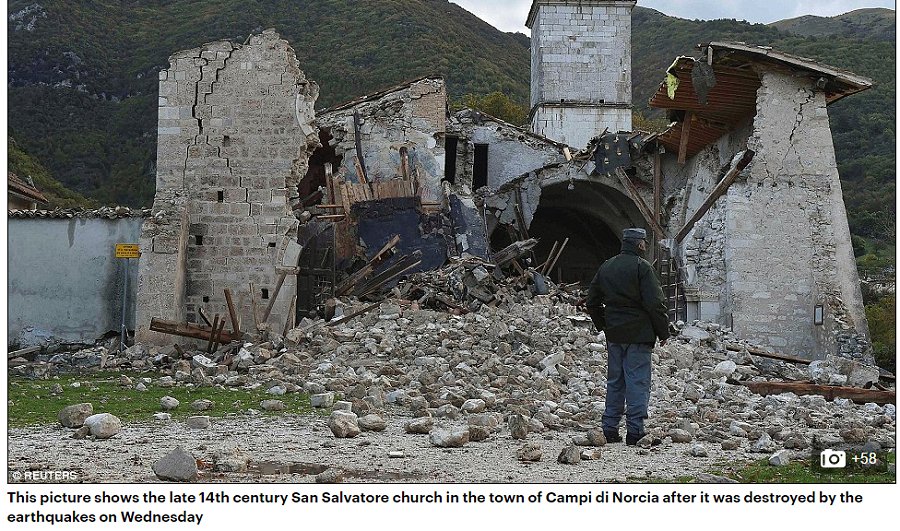 A church. It's considered to be a house of God. 700 years ~ 70 AD x 10
Aaron noted these observations about the church incident. It was 14th century - which means 1300's - time number 13. Crews couldn't get started because of the rain - water as time. The "rose window facade" of the church was seen to fall to rubble - goddess crashing down. Second quake was two hours after the first - 120 minutes - time number 12.
The temple mount with its still-ruined condition has been in the news recently.
Published: October 13, 2016:
U.N. BODY VOTES TEMPLE MOUNT NO LONGER JEWISH - 'What's next? A decision denying the connection between peanut butter and jelly?'
Published same day as the quakes outside Rome: October 26, 2016:
For First Time Ever, Jews Allowed to Pray on Temple Mount as Thousands Ascend for Holidays
Here's another one from today that points back to the 1st century.
Exclusive: Christ's Burial Place Exposed for First Time in Centuries - Restorers working in the Church of the Holy Sepulchre in Israel uncover stone slab venerated as the resting place of Jesus Christ.
---
UPDATE - Another registering 6.6 on October 30
-
(Reuters) INTERVIEW- Italian earthquakes could go on for weeks in domino effect -scientist
"ROME, Oct 30 (Reuters) - The earthquakes that have buffeted central Italy over the last two months could continue in a devastating domino effect with one large quake leading to another along the central Apennine fault system, a leading seismologist warned on Sunday. An earthquake measuring 6.6 according to the U.S. Geological Survey struck on Sunday in the same region where a 6.2 quake on Aug. 24 killed 297 people. In between there have been thousands of smaller tremors, including a 6.1 quake on Wednesday. The latest earthquake caused no known casualties but was the strongest to hit Italy, one of the world's most seismically active countries, since 1980."