Leading Israeli Ultra-Orthodox Rabbi, Chaim Kanievsky, Says the Arrival of the Messiah is Imminent
This reminds me of the Lubavitcher Rebbe, Menachem Schneerson, and his claims following the Gulf War. (
The Year of His Coming: 1991 - Part II
)
US company gives glimpse into future of government surveillance
Future? Present. In the past when publishing links to news of the signs of the police state and various surveillance-monitoring technologies I likened it to watching knots tied in a net. There's going to be a reset, but what you're seeing in these matters today is what's going to be implemented early in the next go-round. This is more of what the trap looks like. Their tagline. "Searching the past. Safeguarding the future." What a telling trend!
The fuss over the Ten Commandments monument in Oklahoma highlights an absurdity and speaks so loudly about our condition. Here's a picture of the monument.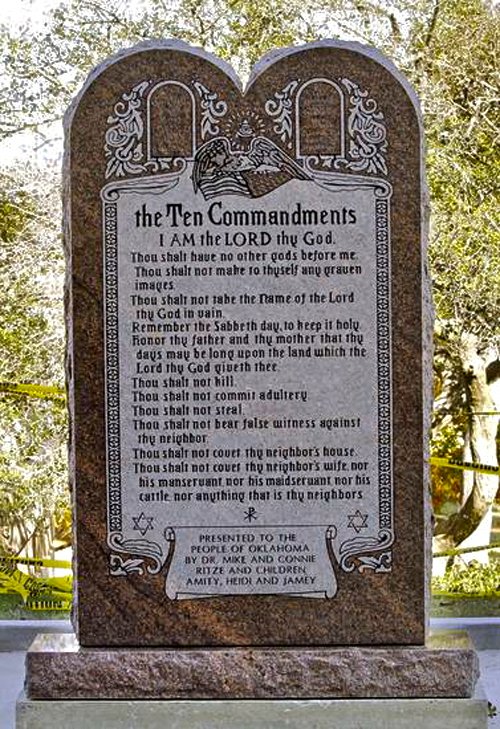 At a glance, many will see the glowing eye in the triangle and the eagle and flag and assume that it's merely patriotic. Likewise, what is perceived as the Star of David will be considered Jewish and the Chi Rho cross will be taken as a Christian emblem. Well, sure, who else would be interested in promoting the ten commandments but Jews and Christians, right? But, something rather important is being overlooked. Actually, pretty much everything is being overlooked.
If you can interpret the symbolic imagery, the monument is entirely offensive, an abomination, and it should well be removed and destroyed. Are you familiar with the Sodomite Gateway series? Can you see that the moonument is an anatomical model? Wow! Did I actually just write, moonument?
Moon You, Meant!
The hexagrams are magical sigils. The Chi Rho is a pagan XO MOB symbol. As X (chi) R (rho) it's a variant of the Rx, the eye of Horus and sigil of Jupiter. The decorative bands that frame the monument's text are pillars marked with repeating XO symbols. The two shapes assumed to be tablets bearing 5 commandments each are Masonic Royal Arse, eh, Arch images, squared circles, dimensional portals and the two eyes flanking the central third eye, of Horus. The bird flying out of the butt is Amaru, the feathered serpent, aka Horus.
What are the top 2 commandments listed? What a flagrant violation. What an offense. What a spell of blindness there is over our land. Oh, we so need humbling!
Update:
The triangle eye capstone is the benben stone, or benbenet, claimed to represents the seed of Ra. See
Part 18 - The Sodomite Gateway - Royals Solve the Riddle of the Sphinx
.
LHC back in collision mode
"All systems are go once again for physics at the Large Hadron Collider (LHC). On Saturday evening proton collisions resumed at the world's most powerful accelerator and the experiments began collecting data once more. At present, 152 bunches of protons are circulating in each direction in the 27 kilometre machine, but the goal is to increase the number of protons over the next two weeks to close to 1000 bunches per beam."
(The Guardian) CIA torture appears to have broken spy agency rule on human experimentation
(June 15, 2015)