Decoding: The Leftovers on HBO - Space-Time Ritual in the 'Begin Again' Ad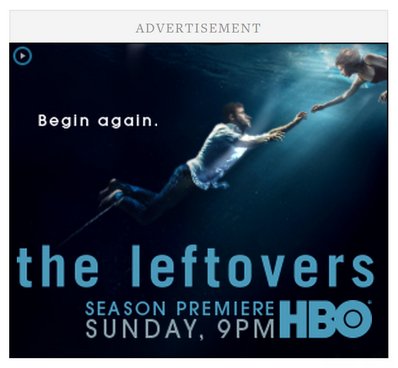 Aaron saw this ad a couple days ago for an HBO series called, The Leftovers. The second season premieres tonight.
It's a cryptic mystery about a mass dissapearance that evangelical Christians would identify as a rapture event.
If you've been following the blog you know we've been pretty focused on the subject of time and space-time manipulation. Watch this video to learn what we see in the title and promotional imagery. It has to do with the water as time metaphor, space-time manipulation ritual and the pending time reset.
Note that the show is on at 9. That's 21:00 hours. That number signals time, and is a mirror of another time number, 12.
Begin again. Some know this is what's coming, some from both sides of this supernatural war. Do you? Do you know it to be so?