Here's an article from March 28.
Holy Cross Theology Professor Says Jesus Was a 'Drag King' with 'Queer Desires'
"The theology program at the Jesuit-run College of the Holy Cross has taken on a new tone ever since the school appointed a gender-obsessed Chair of New Testament Studies who claims Jesus was a "drag king," a new article contends."
...
"What makes the heterodox perspectives of Professor Liew all the more scandalous at this Jesuit institution is that they are not reserved for some obscure graduate seminar, but are offered to undergraduates. In his prestigious role as chair of New Testament, Professor Liew often teaches "New Testament," the College's primary New Testament class."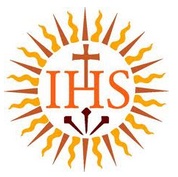 So, eh, what part of that is really surprising? Jesuit-run College of the
Holy Cross
? Recall the photographic artwork of Erwin Blumenfeld titled, Holy Cross, which appeared in this post published nearly 2 months ago:
Decoding the Felician Sisters Brand
The Jesuit branding of the cross-IHS that is "a sun" certainly resonates with that. You are familiar with the shockingly informative
Sodomite Gateway Series
, right?