I'm just going to throw some stuff out here.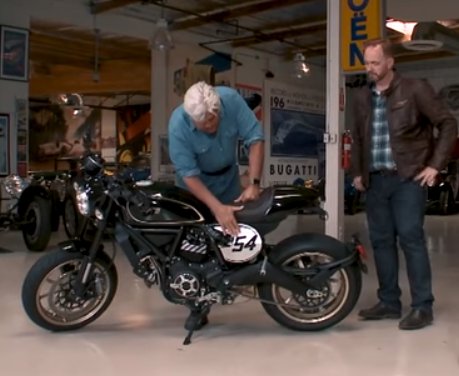 So, I just published some of the material I've compiled on the subject of VELO LOVE Code 54. Last night the thing was to watch some vids on YouTube. Jay Leno just put up a video, and check this out! The episode was about a #54 motorcycle. It's a motor bike ~ bicycle, right? VELO LOVE Code 54! Every Ducati Scrambler Cafe comes right from the factory with #54 on it. The CEO of Ducati North America explains the story behind the 54 to Jay, and well, it's a great story, but I think its a safe bet that the real story goes deeper.
2017 Ducati Scrambler Cafe Racer - Jay Leno's Garage
(set to where the explanation begins)
Then I'm watching a video of somebody doing a pretty good job explaining the movie, They Live. (
They Live | Based on a True Story
(caveat - some crude language)) If you're not familiar with it, we highly recommend it. You might consider that we at The Open Scroll are in the business of distributing the special glasses featured in the campy flick. These allow folks to see how things really are.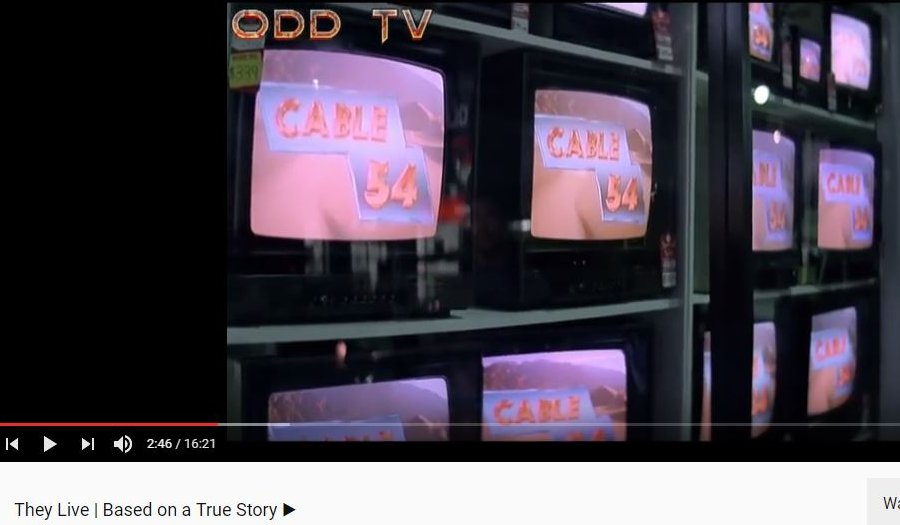 Spoiler alert
Toward the end, the protagonist discovers that there's a kind of cover spell being broadcast from Cable 54, the mass media whose building is secretly the base hiding the aliens and their control mechanism that allows them to rule over the earth. It presents a brilliant allegory. Again, highly recommended! So, Cable 54. Spilling more beans on the Love Code 54.
A little earlier in the day Aaron and I had exchanged some emails and quite notably the two previous nights of media were highlighted as being just as well coordinated. The Lord continues to demonstrate His leading to a remarkable degree. I have other things I need to be doing, but I have no peace until I share this, so here it is, most of our email thread. You will note the focus on the SSSS, and with what was highlighted to me while watching Harry Potter about the snake language, and then about the reptilian aliens in, They Live, with the Cable 54 signal. And Aaron had been compelled to bring up, The Signal. We plan none of this. We just watch the Lord's orchestration and marvel!
One take away is this, that the broadcasting of mind control through media is validated. Another is this, that the Code 54 and the sodomite love is operative in a similar fashion, on another level, and roughly parallel in effect.
I started this thread, sending this to Aaron.
Subject line: François Rabelais - pre-Crowley Thelema and the Law
François Rabelais - ~1483-1553 - French
pre-Crowley Thelema and the Law
Abbey of Thelema... Do what thou Wilt...
https://en.wikipedia.org/wiki/Fran%C3%A7ois_Rabelais#Th.C3.A9l.C3.A8me
-----------------------------
I followed that sending this one to Aaron.
-----------------------------
http://www.thebeatlesneverexisted.com/botr/viewtopic.php?f=38&t=34
"Re: Laurel Canyon and the Birth of the Hippy Generation

by Silversong » Sun Sep 14, 2014 7:08 am

Editor's Note: This is an extremely timely and important essay. It
overviews a secret Pentagon psychotronics technology known as Silent
Sound Spread Spectrum (SSSS) that has been fully operational since the
early 1990s. I first found out about the use of this technology from
Al Bielek in a 1992 video he made with Vladimir Terziski. This
technology was used against battle-hardened Iraqi troops fortified in
deep underground bunkers in Kuwait and Iraq in the first Gulf War in
January of 1991.

The physical, emotional, and psychological effects of this technology
were so severe that hundreds of thousands of Iraqi troops surrendered
en masse without firing even a single shot against U.S. led coalition
forces. The numbers reported in the news were staggering: 75,000 and
then annother 125,000 (or more) Iraqi troops would come out of their
deep desert bunkers waving white flags and falling to their knees
before approaching U.S. troops and literally kiss their captor's boots
or hands if given the opportunity. Why would eight year veterans of
Middle Eastern warfare (with Iran 1980-1988) behave this way? Simple.
They were subjected to a technology that was so extreme and
incomprehensible that they were suddenly reduced to the level of
compliant children and felt grateful to still be alive in the wake of
their mind-wrenching experience.

This technology is about to be used, albeit in a more subtle fashion,
against American citizens in a highly classified and covert operation
to mind control and manipulate the entire population into 'compliance'
with our New World order overlords. The technology will utilize a
combination of HAARP transmitters, GWEN towers, microwave cell phone
towers, and the soon-to-be-mandatory High Definition DIGITAL TV that
will enter your home via A) Cable, B) Satellite, C) HD TVs, or D)
those oh-so-easy -to-obtain "Digital Converter boxes" that the
government is so anxious to help you obtain and underwrite most of the
cost on your behalf."
-----------------------------
I want to make the point that Aleister Crowley's Abbey of Thelema and Thelema's Law is not entirely original. He claims direct inspiration and while some see the obvious signs of plagiarism, he may well have gotten it the same way François Rabelais did.

So, Aaron replied with the following.
-----------------------------
There is nothing new under the sun - Crowley carrying the torch.
The deal with the SSS - I absolutely believe it. That speaks to me as a physical component and manifestation of what is taking place in the spiritual realm. The enemy has all the bases covered and that seems like the initial artillery in preparation of the "great hoax" of 2 Thess 2 - and we know how that is going to go down after the reset.
It brings to mind a movie I saw a long time ago called "Signal." Anybody watching TV at a certain point was turned into a lunatic killer mind controlled zombie and went on violent rampages.
https://en.wikipedia.org/wiki/The_Signal_(2007_film)
"
The Signal is an American horror film written and directed by independent filmmakers David Bruckner, Dan Bush and Jacob Gentry. It is told in three parts, in which all telecommunication and audiovisual devices transmit only a mysterious signal turning people mad and activating murderous behaviour in many of those affected.
The film's three interconnected chapters ("transmissions") are presented in a nonlinear narrative. Each of them manifests elements of (besides the overall genre of psychological horror), respectively, splatter film, black comedy, and a post-apocalyptic love story. The Signal was met with a mixed but largely positive critical reception.
"
-----------------------------
I replied to Aaron.
-----------------------------
"Coincidentally," :) I watched iBoy on Netflix again last night. Similar theme, because with his mind he controlled electric and electronic devices. He "beamed" at people to kind of overload their circuits.
The SSSS is a big HISSS. Serpent Nachash. Its the reference I've heard occasionally and very distinctively in reverse speech analysis. The ENCHANTER.
On this same subject, again, "coincidentally," The night before that, I watched Harry Potter, the Chamber of Secrets. Harry spoke in the special snake tongue to communicate with the "hydra-ish" snake.
--------------------------
That's the end of the thread.


In closing here's one last item of note. Katy Perry. Illuminati slave. You've seen our PizzaGate videos, right?

Aaron emailed this:
--------------------------
This seems legit - it appears she is about to say she wants to be her "alter" when the video cuts out
https://www.instagram.com/p/BVK3Q8TlfVH/?hl=en
--------------------------
I concur. It seems legit, and that "alter" certainly fits the dialog.
We're certainly not without compassion for Katy and those like her. Far from it. We long for the day when the Lord has appointed a fix for the sad, sad, evil control mechanisms of the Luciferian illumined.