Why are people petitioning to drink the red liquid from the Egyptian Sarcophagus?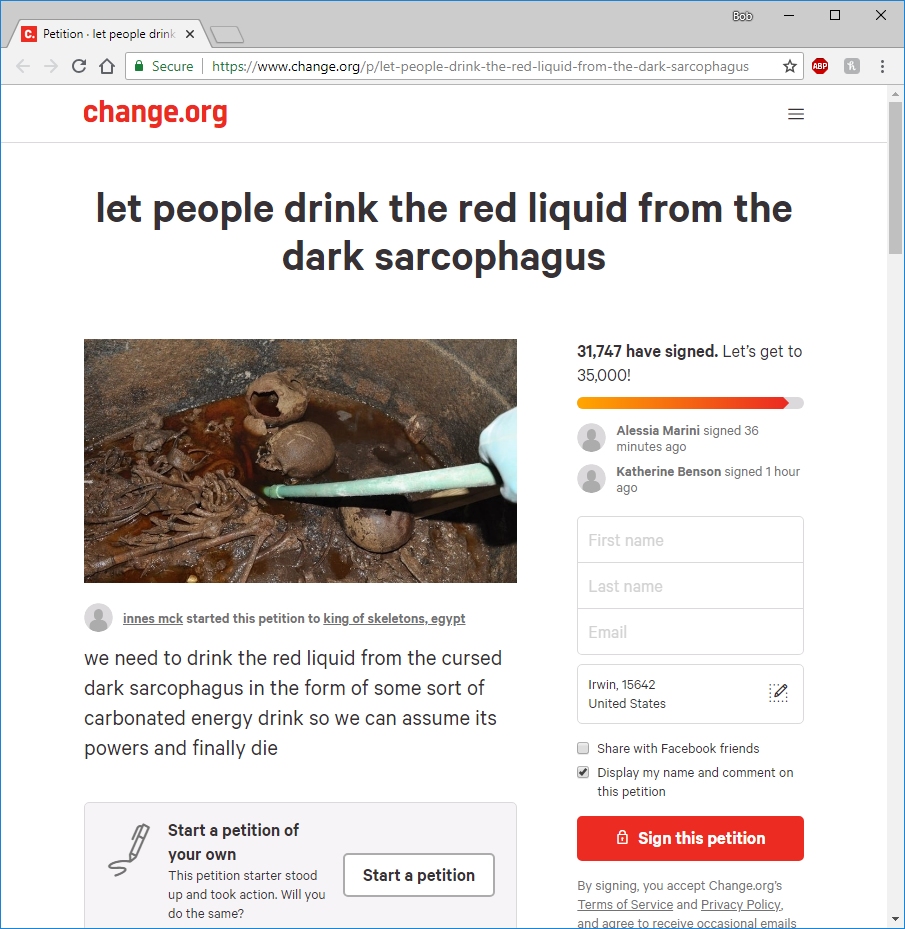 In July, a large, sealed, black granite sarcophagus was discovered in Alexandria, Egypt, along with an alabaster head in the same pit. It was 8 by 4 by 5 feet, which might be the largest sarcophagus found so far. It was dated to a little over 2000 years old. When it was opened, three decomposed mummies were found inside, with their skeletons largely intact, and some reddish brown liquid that we're being told is sewage that seeped in through a crack.
About this liquid, as foul smelling as it is reported to be, people want to drink it. About 32,000 people have already signed the change.org petition found here.
let people drink the red liquid from the dark sarcophagus
The petition is being made to "king of skeletons, egypt" and whether or not you think it's just a sick joke, there's more to this idea than most people realize.
The petition simply reads: "we need to drink the red liquid from the cursed dark sarcophagus in the form of some sort of carbonated energy drink so we can assume its powers and finally die"
First, calling the container a "cursed red sarcophagus" is not a silly idea. Historically, curses have sometimes been identified in the hieroglyphic messages associated with some tombs, and what has happened to those involved with opening the tombs and the contents of the tombs has made believers out of many. Could the red liquid be like an energy drink? Could the drinkers assume its powers? Do they really want to die from this? This only makes sense if you understand about energy vampirism and blood sacrifice, cannibalism, coprophagia, ritual sodomy, of the practices of
the undergrounders
, the illumined elite and Satanic Ritual Abuse. They don't really want to die, they want to ascend to be with the gods and live forever. They want to transcend this life. They understand that drinking and eating the most putrid and disgusting things is a source of power. The juice, the charge, that's what they crave. The charge is demonic. It's not so much the juice but the demons that infest it when they ingest it. With such a disgusting vehicle, you might think that ingestion would be a traumatic experience, and you would be right. It's used in ritual abuse situations to build trauma, and initiate demonic possession.
Here's an image to compare that should speak to you. Body in coffin with reddish brown liquid - offered for consumption.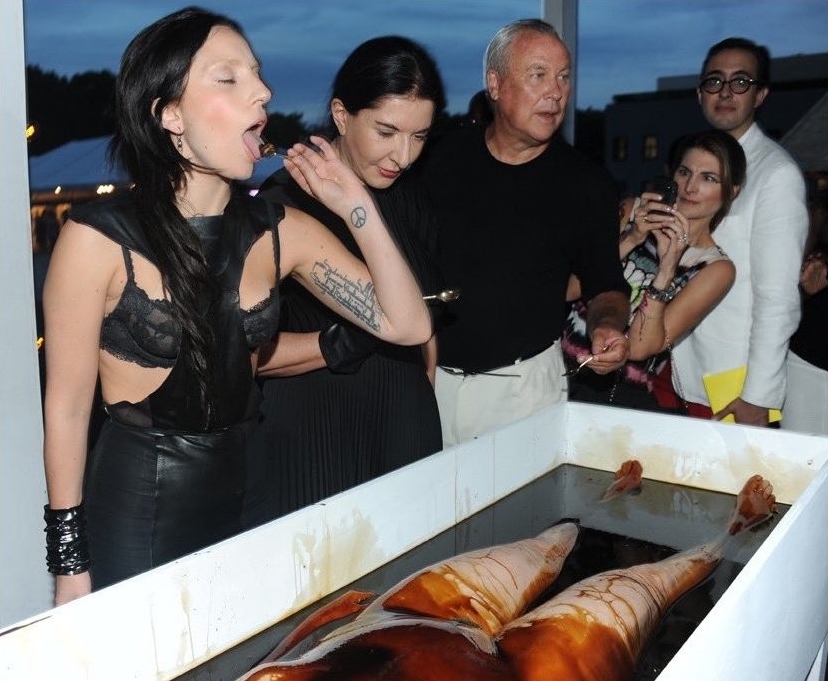 This photo of Lady Gaga and Marina Abramovic was taken just over 5 years ago during the 20th annual benefit for the Watermill Center, an Art center in Water Mill, NY. From their website: "The Watermill Center is a laboratory for the arts and humanities providing a global community the time, space and freedom to create and inspire." We note "time, space" suggests their activity has to do with influential time-space ritual.
The Center just held their 25th annual benefit, titling it, Time Bomb.
F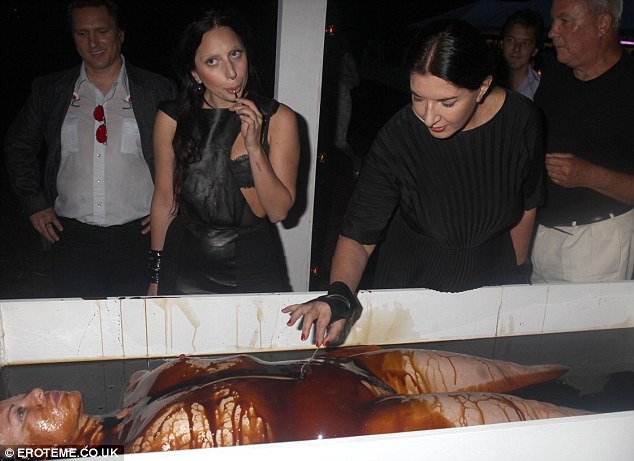 rom a DailyMail.com article from 2013 (
Not too ghoulish, Gaga? Singer is nonchalant as as eats fake blood off woman's naked body at art show
): "Gaga, then spotted the woman covered in blood, an onlooker told the NY Post: 'There was a casket with a totally naked woman laying in what looked like a pool of blood. On a table nearby there was a row of little spoons — no one had touched them, because no one knew what they were for.' [Wilson] gave two spoons to Gaga and Marina . . . and Gaga dipped the spoon right between the artist's legs, and took a sip. She then, 'proceeded to lick the spoon.'"
What makes Lady Gaga act that way, and were did Marina come up with such an idea for her "performance art? Are they crazy? Crazy evil. It's their religion.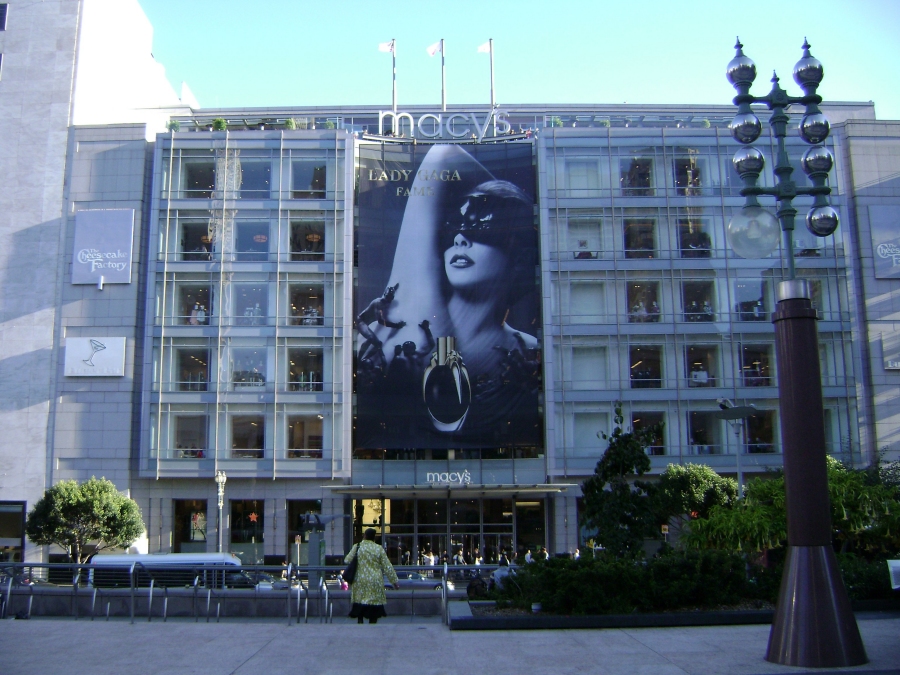 Lady Gaga bottled and sold such potions as a perfume called, Fame, which she introduced to the market in August of 2012. Some of the controversial ingredients had to do with sperm and blood and belladonna, a poison traditionally used by witches. She promoted the perfume in connection with her song titled, "Scheiße" - which interprets to the English slang for excrement. It features black goo, which is a familiar substance in films and music videos that probably has to do with the bodily fluids, perhaps representing what it looks like in the spirit realm. There's a "mummy" connection there because of the "zombie" skeleton death look celebrated.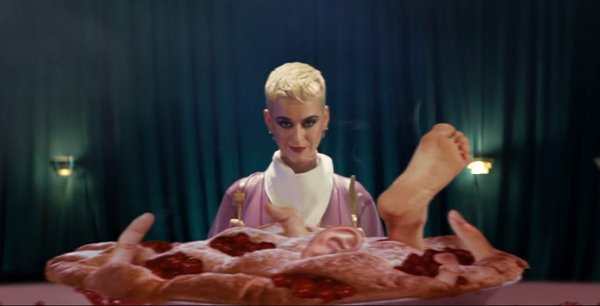 Here's a picture of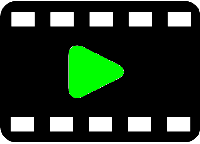 Katy Perry from, Bon Appetit
. Ready to devour a human body part pizza. It's about cannibalism and human sacrifice and it's highly sexualized - charged with eroticism. Energy Vampirism.
Remember PizzaGate? This special sauce or energy juice is "pizza." Remember the pizza slosher making the rounds collecting everyone's bodily excretions in Katy Perry's music video, "This is How We Do?" The series of videos we made on the subject never got much traction, but those of you who gave it your attention learned what pizza really means, in the secret code language of the elite. If you're not convinced, see the Pizzagate series installments #6-8 (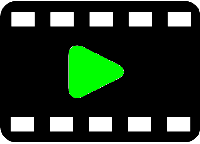 Pizza Esoterica 6 - Katy Perry's "This is How We Do" - "Pizza Slosher's" Collection
)
Marina Abramovic is known for inviting people like John and Tony Podesta and other celebs and political figures to join her for Spirit Cooking. Here she is at one of her famous "not a ritual if it is art" "performance art" rituals.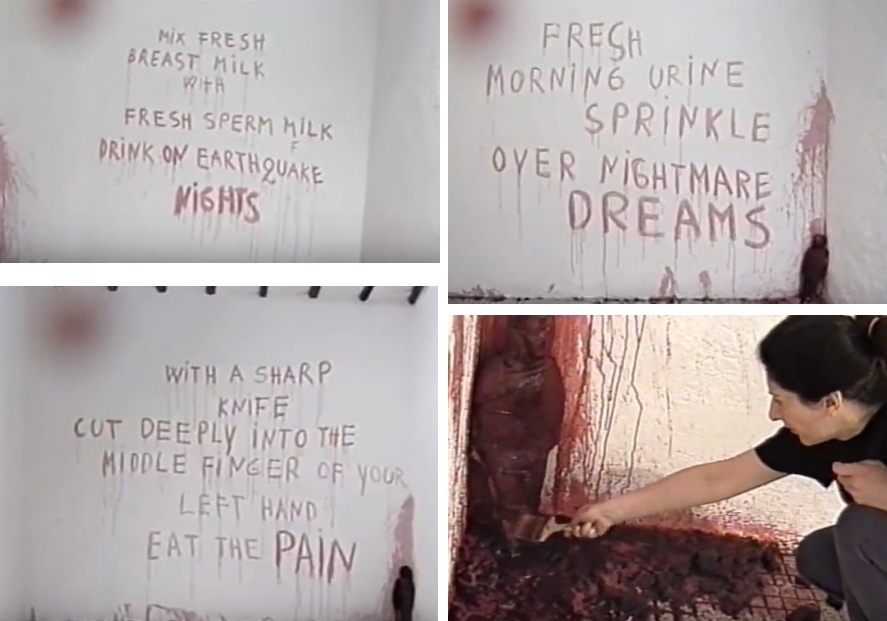 She splashed a disgusting looking tub of reddish brown semi-gelled substance on a figure that looked like a mummified baby. What she painted on the walls identifies what must have been in the paint. Fresh morning urine, breast milk and sperm and blood. It would not be surprising if it was actually the blood of sacrificed babies, and menstrual blood, which is called starfire, and there is probably what's called, blush, which is the bloody discharge collected from the anus of a roughly sodomized victim.
The acclaimed warlock Aleister Crowley recorded a book when he was in Cairo, Egypt. It's the foundation of Thelema. Here's a section that includes a recipe. This is referred to as Cakes of Light.
From "The Book of the Law" Liber AL vel Legis: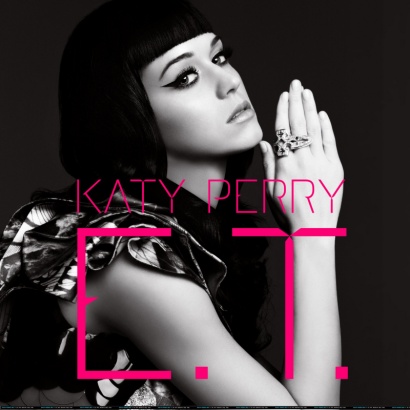 "23. For perfume mix meal & honey & thick leavings of red wine: then oil of Abramelin and olive oil, and afterward soften & smooth down with rich fresh blood.
24. The best blood is of the moon, monthly: then the fresh blood of a child, or dropping from the host of heaven: then of enemies; then of the priest or of the worshippers: last of some beast, no matter what.
25. This burn: of this make cakes & eat unto me. This hath also another use; let it be laid before me, and kept thick with perfumes of your orison: it shall become full of beetles as it were and creeping things sacred unto me.
26. These slay, naming your enemies; & they shall fall before you.
27. Also these shall breed lust & power of lust in you at the eating thereof.
28. Also ye shall be strong in war."
Make note of the context. This is for making war on your enemies. It's like how it is with the Eye of Horus, when it is placed in the hand, according to the ancient pyramid texts. It's like how the eye on the pyramid on the great seal has to be interpreted, according to the context of the Latin expressions
Annuit coeptis
and
Novus ordo seclorum
borrowed from Virgil. It's for war. The Egypt thread - the name, Cairo, means, Camp of Mars. That's the god of war. They aren't going to tell you about the warring because, if you're not them, you're one of their targets, especially Christians who wield their sword of the spirit and wear their armor engaging the Adversary and his minions.
If those who crave such energy drinks were your friends they would not be carrying on with their dark secrets. Are you alert and watching? Your enemies are waging fierce war against you, right in our midst. Ephesians 6.