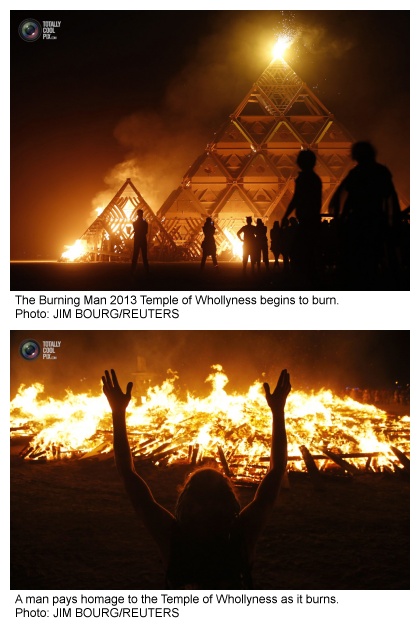 This year's Burning Man 2013 event was reported to number over 61,000 participants. On Saturday night, the Burning Man was ritually torched. One photo I found while perusing what has been posted from the event had a caption that read, "The Temple of Whollyness burns at the conclusion of the 2013 Burning Man arts and music festival in the Black Rock desert of Nevada." These pics illustrate what I pointed out in Part 1, how Horus worship is what this is really all about.
By labeling this structure the Temple of Whollyness it is put in a fun and light hearted way. Cloaking a thing with humor does nothing to change what it is. That pyramid is inherently giving honor to Horus,
as explained here
. This object was central to the worship offered, and captured during the event. I intend to expand upon that statement, but there's more to be said first about some of the dangers of Burning Man participation.
Aaron and I watched a documentary about Burning Man last night on cable. One thing that we noted was how carefully the labels for everything
Burning Man
are crafted to create the intended fantasy construct in the minds of participants. What came to my mind so vividly while watching was the constant expression of self-contradiction. There seems to be a strong spell of reality-denial about the whole thing. We also reflected upon how counter-culture and mainstream culture actually depend upon one another to maintain the tension that makes the illusion of that dynamic as a reality so powerful. The focus of attention upon the related conflict between the
haves
and the
have-nots
is a tool that has long been wielded with evil genius by those in control through the ages. There is, of course, some truth in the identification of these polar opposites, but to engage emotionally with the material superficiality is to accept the staged action of a theater as your reality without recognizing it as a scripted and directed show.
Like discovering how the strings on a marionette reveal it's being controlled by an unseen agent, we can look at Burning Man brand imagery and see similar signs. The branding of the Black Rock Rangers provides an excellent example, clearly identifying the Burning Man as the sodomite sun god. Who the Rangers are can be learned from reading the official description (
RANGER OPERATIONS - AFTERBURN REPORT 2006
) offered to the public. They are like Park Rangers, providing a kind of security detail for Black Rock City. They are the club bouncers who deal with conflict resolution and assume the responsibility to interface with authorized agents of law enforcement.
Caveat: If you're a victim of ritual abuse who is still being delivered or you're easily offended by mature subjects and descriptive language, please consider moving on.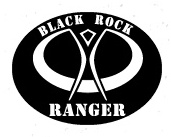 The branding of the Black Rock Rangers is everything I said about the Burning Man symbol in Part 1, plus, the Horus Eye imagery is even more pronounced because the oval of a larger eye is drawn for us. The Horus Eye is a term the illuminated Occultists use to describe the terminus of the GI tract. This is what I've described at length as the sodomite gateway through which one may be ritually illuminated and bound by a very real supernaturalism to that sun god. In fact,
the Burning Man symbol is a graphic illustration of that very place where "the sun don't shine,"
figuratively speaking. The head is the anus. If the Burning Man were given the name, "Ben Dover," well, that would be suitable!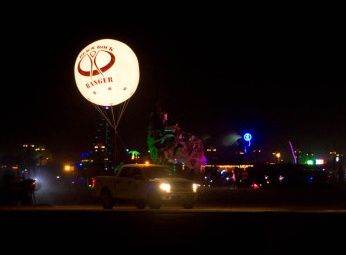 If you can identify this anatomical feature you're seeing evidence of "the puppet master" at work.
The Horus Eye illumination of ritual sodomy is first pictured in how the Burning Man's head is a diamond (a symbol of an Illuminati Chosen One) and regardless of how that's lit, this cut gem is renowned for reflecting light with a rainbow prism effect. This is the brilliant pupil of the symbol eye. This gem's cut also presents a slightly abstracted Masonic square and compass, a very potent symbol! The illumination of the Black Rock Ranger Horus Eye symbol appears at night on a sign identifying station outposts. It's lit up from the inside, self-illuminating and backlit; presented in a suitably symbolic way.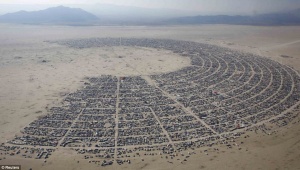 Burning Man, BM; that's what the medical community calls a bowel movement! Notice how the layout of the Black Rock city marks the earth with a giant sun anus.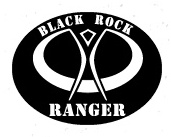 More evidence of "the puppet master" appears in how the sun god is named twice. The oval Eye is also the sun and the Burning Man is the sun god, who is sometimes called Ra, or Re. These names are pointed out by the legs! There is symmetry exhibited in the website banner and there is here too, as the sun god's name is twinned like in a mirror. Above, the arms separate out CK and RO, both of which signal Code 33! (KC ~ 3*11 and RO ~ 18+15) The two sides of the sun-eye divide into a pair of mirrored letters C for another Code 33.
The puppet masters behind the ritual must be having a good laugh. There are dangers in what the Rangers are about beyond their scope of activity in providing material services. Mind-Control over crowd control.
"
Signs and symbols rule the world, not words nor laws
"
Confucius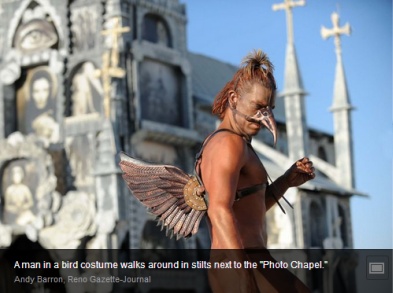 The observation I made earlier about conflicting Horus Cults has even more profound value in the context of all of what Mystery Babylon is, in every form of expression. The Bible and all history is filled with examples of how the sun god worshiping faction Brand X
1
has continual conflict with Brand X
2
and every non-Brand X
faction. One example is how the Romish Church who worships the sun god under the sun cross banner of Christ spoils and absorbs or destroys those who worship under the sun banner of the plumed serpent, or in other seasons more openly than today, Protestant variants as the daughters of Babylon.
That really makes little sense from a
common sense
perspective, which finds an expression in the truths explained by my Lord in the context of teaching about the hierarchy of spiritual authority.
And knowing their thoughts Jesus said to them, "Any kingdom divided against itself is laid waste; and any city or house divided against itself will not stand. ~ Matthew 12:25
In an expression of a perceived battleground of morality, those who practice acts of depravity in secret hate those who do it more openly, and vice versa, but the same god receives honor and derives strength from both.
That's why the Devil, who is not stupid, fatally compromises the strength of his assets. What is gained is sometimes called energy vampirism, or energy harvesting. He and those with him feed off it quite literally, and they feed this back to some of their servants as a nibble from the proverbial carrot dangled in front of a donkey for motivation. The Devil is also compelled to expend his resources through internal conflict by The One whose purposes are ultimately served, the Sovereign God.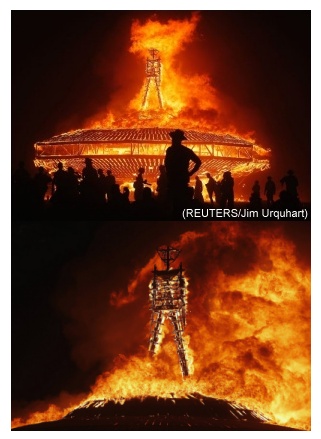 So, the Devil will sacrifice his own assets when my God denies him His. Ritual sacrifice was instituted by the true God in the provision of a sacrifice for sin. While sin endures, which is for as long as the life of a body of flesh and blood endures, a sacrifice is required. Y'shua provided one, as the perfect man who sacrificed himself for us. If you've discovered that, you've found what is of great value. Still further sacrifice is called for, it must be said. There are those who offer themselves as living sacrifices, on one hand, to the true God, and on the other, to the false. One looks one way, the other, another way.
Those who are inspired by the way of the Burning Man are engaging in a religious experience. Many testify about how they experience an epiphany and their lives are changed dramatically. There is a personal identification and spiritual bond that is often established with the Burning Man idol. When Burning Man goes up in flames and is consumed, so it is very personally because of this bond. It's a form of a born again experience where the old is put off, replaced with a new. They devote themselves to repeating this annual sacrificial ritual and evangelizing for it, presenting themselves as a living sacrifice to their new god.
When they come away from this activity some must surely discover how they were not purified but rather corrupted. How many come away with STDs or pregnant with the child of an unknown father? How many are filled with regret at their foolish deeds when they later come to their senses? What will be their state when their status is revealed when standing in judgment at the last day? Lest they repent, those of any Horus cult, there will be remorse and it will be unquenchable until a just penalty is paid, every last farthing. For yet a short season, it's not too late, if this is speaking to you.
More to follow, Lord willing!