By Aaron Hermann (
Revelation of Babylon blog
)
---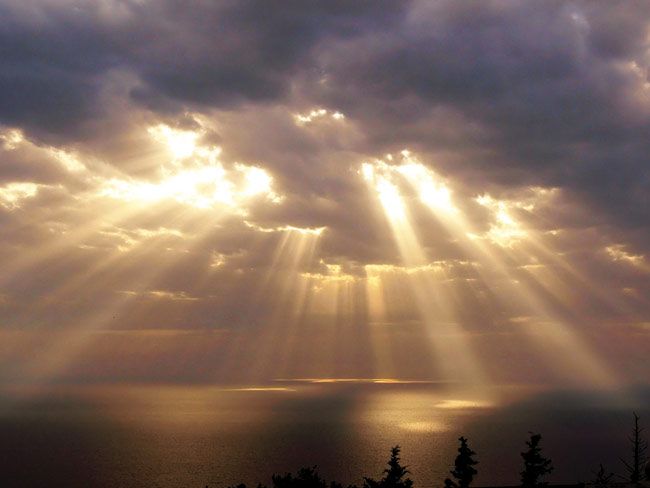 This is a season the likes of which we have never seen before, and one which we will never see again. I know that the struggle for some of you as of late has been immense as the enemy has received a significant upgrade in their powers and abilities through the latest ritual season and extraordinary eclipses. Over the course of the last couple of weeks I have been seeking the Lord as to whether or not He had a word for His people for me to share, and the only answered I received was "not yet."
Just a little while ago, however, that changed. After three days of intense heaviness and engaging in a season of intense prayer the Lord shared the following word with me today. I pray it is as comforting to some of you as it has been to me.
"Tell my people these are the days which have been prophesied of old. The powers of darkness are increasing as the time of the end draws near. Fear not, for those of you who have made your home on the Rock will be able to stand against all that will come against you in the days ahead.

Those of you who have chosen to make your foundation on the sand will continue to be swept away by the tide of deceit and deception that will destroy all that is not of Me.

Now is the time to be meek in the flesh and mighty in the spirit. Do not heed the call to arms sounded by the warriors of the flesh, but continue to abide in Me and be strong in My Spirit and wield the sword of My Word against the powers of darkness.

The time of great destruction is nearly at hand. Give no consideration for your lives, your well-being, or for those of the ones whom you love. All that has not been completely surrendered and given over to Me will be used against you to your destruction. I love you and I love the ones whom you love and you must trust Me to care for and protect all that I have given you.

The time of great change has come. The work of preparation of this season is nearly complete, and the work of refinement shall continue in the fiery trials ahead.

Continue to seek Me and draw near to Me so that I may renew and strengthen you. The assault of the enemy will leave you weary and downtrodden if you do not constantly seek Me for renewal and strength.

Soon some of you will be put to your greatest test as you will be called to lay down your lives for My sake. For others this test will not come until later. Regardless of when your greatest hour of testing may come, keep your eyes upon Me and I will give you all that you will require in that hour. For those of you who are truly Mine, those who truly love Me I will move Heaven and earth on your behalf. Trust me and do not fear, for I will never leave you nor forsake you in your time of need and trouble.

All of the trials, tribulation, and suffering that you have endured have been to refine and prepare you for the season that is nearly upon you. Remember the miracles that you have received and witnessed, remember all that I have taught you and everything we have endured together in this season. Do not lose sight of Me in the days to come. I have prepared you for that which is to come and will continue to refine you through all that is yet to come.

Do not fear when the darkness falls, for you will be prepared and I will be with you until the end."
---
By Aaron Hermann (
Revelation of Babylon blog
)
Please feel free to contact me through my Gmail account. (theultimateplan@)