I was thinking about just leaving the link as a comment, but this article really called for more. It's apparent that this is a gloss piece, not going very deeply into what things are really being done, but it's worth a read.
These Modern Witches Want to Cast a Spell on You
The featured witch is known as, Gala Darling. Here's a couple excerpts, but I recommend reading the entire article.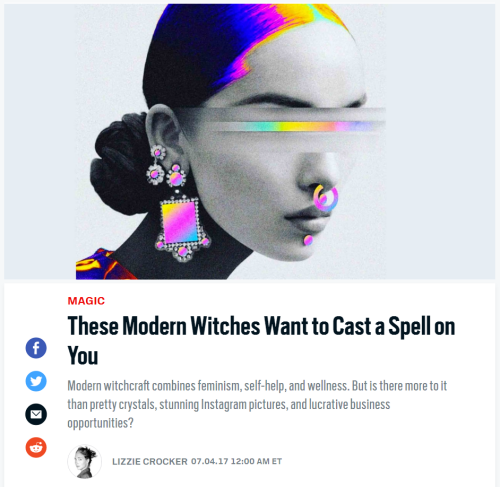 "...
At a time when millennial women are embracing wellness fads and are hell-bent on toppling the patriarchy, the contemporary witch is their enlightened, rebellious role model. She has seen a resurgence in pop culture over the last few years, from the campy and wildly popular 2013 TV series American Horror Story: Coven to Robert Eggers' 2015 film The Witch. Gwyneth Paltrow's website Goop sells tools for female-oriented practical magic like jade and rose quartz "yoni" eggs that purport to do more than just exercise your kegels. Celebrities like Katy Perry, Victoria Beckham, Cara Delevingne, and Lena Dunham are hooked on crystals' alleged healing powers and positive vibes (it doesn't hurt that they're also pretty). Adele chalked up her lackluster Grammy's performance last year to misplacing hers.
...
"I'd like everyone to write 'orgasm' under the physical category, because sex magic is the best magic," Darling says to whoops and cheers.
..."
Lizzie Crocker, the author of this article on The Daily Beast writes the following about herself, so you know where she's coming from:
"My introduction to the occult scene in New York City was in 2015, when I attended a "goddess circle for curating extraordinary confidence" organized by three women in Brooklyn who called themselves the BABE Collective; "BABE" being an acronym for "Badass Beauties Elevating Society." It was a workshoppy event similar to Darling's at The Wing: a description advertised "bringing a heightened awareness to what being confident means in the spiritual, practical and personal sense." It was part coven and part 12-step program: Roughly a dozen women gathered in a teepee in Williamsburg and meditated while eating expensive, organic dark chocolate—an "offering to ourselves" and an exercise in "taking time to savor something." We prayed to Kali, the Hindu goddess who is worshipped as the Mother of the Universe."
The rebellious and defiant influence of the goddess is evident - a manifestation of the one that the elite worship as Lucifer.
"For rebellion is as the sin of divination, And insubordination is as iniquity and idolatry. ~ 1 Samuel 15:23a
Where it looks like its a war on men by women, it's really only that in a superficial way. It's a war on the Almighty God, confronting His authority and His expression of it in the world.
But I want you to understand that Christ is the head of every man, and the man is the head of a woman, and God is the head of Christ. ~ 1 Corinthians 11:3
The defiant and rebellious witchy attitude that has such trendy appeal has to do with countering the Bridegroom and the Bride, very directly. How do we respond? Pray - for yourselves, for others of us who aspire to be found worthy of the Bridegroom. Submit to Him - obey (probably the most offensive 4 letter word in the world) for this is truly rare, and this finds His approval.
The Sign of the Queen of Heaven
The Bridegroom and the Bride
The Obedient Family
Propriety in the Assembly of the Saints
Headcovering
Jezebel vs Sarah (Blog Series)