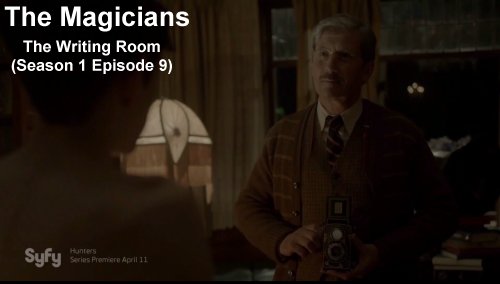 This is the first in a planned series of videos where we'll present examples from film and TV productions of the explicit pairing of time travel with sodomite mind control programming. We understand this has to do with the nature of our present situation, where our reality is the result of intentional tampering with time.
Part One features Episode 9 of The Magicians (on the SyFy channel).
I'm going to repeat something I've said before. The hidden messaging system of Occult symbolism that we're decoding isn't there for the purpose of misdirection. That's what the superficial layers are for. The acceptable veneer covers and provides misdirection. The beans are spilled on what's really going on when you can interpret the symbolism. For their sorceries to work they have to use symbols. So, they put these out there, and these conceal and reveal their ways and means and schemes.
If you are seeing what you're looking at, it's an example demonstrating what the Bible says about our strange season. Our world, not just the entertainment culture, but the very reality of the world we're living in is to a large degree the result of the work of the Luciferian Illumined elite and their mind-control programming. It's more than just the result of propaganda or even the magical crafting of the illusion of pharmakeia. Those who have special abilities, installed by Illuminati programmers through trauma-based mind-control and ritual sodomy, can remote view through time, and beyond the merely passive reception of images and impressions, some are able to interact in other space-time domains to change reality. Like what's heard in The Magicians, magic is real. Magick is about changing reality. This goes beyond manipulating the present. Those programmed with special abilities can also influence the past, and perhaps the future. The sovereign God has allowed a degree of control to be exercised by the Adversary, but it should be understood that this manipulation only occurs within the limits He Himself has established. My God is faithful, and His Word is faithful!
Due to blocking polices relating to content rights claims, the video is not expected to be available for viewing on our YouTube channel.
Here's a full 1080i HD version:

The Magicians - Part 1: The Pairing of Time Travel with Sodomite Programming in Film and TV
If that one won't play well for you it's probably because my website doesn't have the bandwidth for streaming all the concurrent connections. As an option, you can download it (right-click on the video link and choose 'save link as') then play that downloaded file, or just try again later.
Here's a

low-res (640 x 480) version
if you prefer.)