By Aaron Hermann (
Revelation of Babylon blog
)
---
For the last two weeks the official reports coming out of China, the WHO, and the CDC have all maintained there is no human-to-human transmission and that birds are the likely source of the disease. Articles are coming out today that seemingly refute those reports and suggest that human-to-human transmission is occurring in close contact cases, but that no one is really sure exactly how the virus is spreading. Further undermining the initial reports is the fact that only a handful out of thousands of birds have tested positive for the H7N9 virus.
The continued underlying message has been, "there is nothing to worry about here, folks", but the actions being taken by the CDC contradict the "all is well" message as the CDC announced today that it is issuing strict guidelines for containing the virus as well as making the announcement that they are beginning to look for the H7N9 virus in the United States.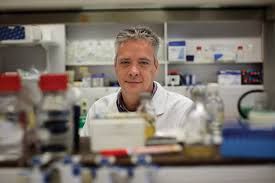 On top of all that a recent report announced that Ron Fouchier, and others, will be working with the H7N9 virus. I have written so much about the man I felt it was time to put a face to the name. The picture to the left is of Ron Fouchier who is one of the men responsible for the brilliant work of turning the H5N1 avian flu into a lethal airborne virus of which the chairman of the U.S National Science Advisory Board for Biosecurity Paul Kleim had this to say, "I can't think of another pathogenic organism that is as scary as this one. I don't think anthrax is scary at all compared to this."
Excellent work, Ron.
One would think with that kind of achievement already on his resume he would be content to not create any more lethal pathogens that threaten the lives of millions of people, but apparently that is not the case. Humanity's dear friend Mr. Fouchier is anxiously awaiting the arrival of his portion of the H7N9 virus that is sweeping through China. This is what Fouchier had to say in a recent article.
The first thing on Fouchier's list is to determine if the H7N9 virus is indeed humanly transmissible, or "airborne." Secondly, if it's not he wants to find out what mutations are necessary so that it is! He doesn't come out and say it, but I am quite convinced that if the virus is not yet passing between humans at an acceptable rate Fouchier will do whatever he can to speed up the process. This is EXACTLY what was done with the H5N1 study and here he is doing it yet again, but this time he is doing it with a form of the virus that is currently causing an outbreak in China and killing people.
Of course this will all be passed off as necessary work in an effort to create a vaccine, save lives, protect humanity, etc. That entire shtick is nothing more than the sweet-sounding lies of the "white coat collective" that have been maximizing the pain, suffering, and death of people in the name of modern medicine for hundreds of years.
While the official reports all claim that no one knows how this disease started, where it came from, exactly how it's spreading, where it's been, where it's going, or anything else of any real value I am willing to go on record and state that I believe that this is the result of a concentrated effort to bring about a viral outbreak on a large scale using a manmade bioweapon.
Whether or not this is the beginning of that outbreak, or yet another round of live field testing in order to gain more information and refine the disease I cannot say. However, I do not believe for one second that this is simply a random act of nature and that all of these national and international agencies are swooping in and working for our benefit and protection.
I started my last post in this series with this piece of advice, and I would like to include it again here.
The rest of the article which detailed Fouchier's plans for his H7N9 samples is equally as disturbing as it informs us that various labs around the world will be working with the deadly virus, mutating it, creating mass amounts of the deadly pathogen, and then shipping it off to other labs.
Reports today confirm that there have been cases of human-to-human transmission.
Even in the face of growing evidence that there is human-to-human transmission of this virus, albeit limited at this stage, the official reports still want to blame the inexplicable spread of the disease on birds. That would be a lot more believable if over 40% of the cases had not reported that they had had no contact with poultry of any kind. If these folks had no contact with any poultry, how is it that they became infected with the H7N9 virus?
Also of particular interest is the fact that out of thousands of birds tested for the H7N9 virus, only 38 of them were positive for the virus. According to Michael Coston of the
Avian Flu Diary blog
:
In regards to the confirmation of the report of the close-contact infections, Michael Coston of Avian Flu Diary had this to say.
It is important to note that close contact infections do not confirm the type of sustained human-to-human transmission seen in pandemics, but it is a cause for concern as no one yet has been able to confidently ascertain exactly how the virus is spreading, or how it has managed to travel several hundred miles infecting over 80 people across several different provinces in China.
It is important to keep in mind that Ron Fouchier and men of his ilk are actively working to determine what mutations are necessary for the virus to spread in water droplets and become a full-fledged airborne virus. It stands to reason that if the current form of the H7N9 virus is not yet demonstrating the characteristics of a global pandemic causing pathogen, they will work on it until it does. Whether or not that will come about during this current outbreak I cannot say, but I do believe with every fiber of my being that it will happen sooner or later and at the current rate of things I would say sooner as opposed to later.
I documented in
Part 11 - A Bioforming Pandemic - Is the Mutating H7N9 Outbreak an American Bioweapon?
how the H7N9 virus is not killing off large numbers of birds, and people may be sick with the virus for quite some time before they are even aware they have it. The disease seems to not manifest symptoms until the carrier has been infecting for quite some time, and the latest reports seemingly confirm that as the virus continues to spread throughout China.
A
Pro Med report
on April, 17th detailed a report from EpiVax classifying the H7N9 virus as a "Stealth Virus."
As it currently stands, we are being told that a "stealth virus" of unknown origin is spreading throughout China in an unknown manner. No one seems to know where this virus came from, where it is going, or how it is getting there. They have confirmed that human-to-human transmission has been seen in the outbreak, but that it is nothing to worry about.
Nothing to worry about? Right.
Perhaps we would be more inclined to believe that if the CDC was not issuing strict guidelines on how to deal with the disease and infected patients, and were not starting to actively look for the H7N9 virus in the United States.
This is indeed getting really interesting really fast, well said Mr. Mchpherson!
In regards to today's CDC announcement, Michael Coston from the
Avian Flu Diary
had this to add.
If the current from of the H7N9 virus is not exhibiting sustained human-to-human transmission, then why is the CDC establishing the guidelines to include
fitted
N95 respirator masks, and the recommendation that patients should be held in Airborne Infection Isolation rooms, or at the very least rooms where exhaust is not recirculated without high-effeciency HEPA filters?
Is it me, or does it appear that there is something "they" aren't telling us?
The powers that be who are in charge of releasing the official statements are saying a great deal; however, their actions are speaking so loudly it is impossible to hear a word they are saying. If after reading the latest CDC statement you still find yourself tempted to believe the official reports I would like to direct your attention to what else the CDC has been up to recently.
So once again the reports claim no sustained human-to-human transmission, classify the risk of a pandemic as "very low," and continue their mantra that no one should be overly worried. However, with all of that in mind the CDC is rushing to make a vaccine - just in case, they activated their emergency center that has not been activated since the Japanese earthquake and Tsunami in 2011, four experts are being sent to China, strict guidelines were announced, and they are beginning to look for the H7N9 virus in the United States.
Call me crazy, but that is a lot of high-level activity for something that none of us should be worried about, isn't it?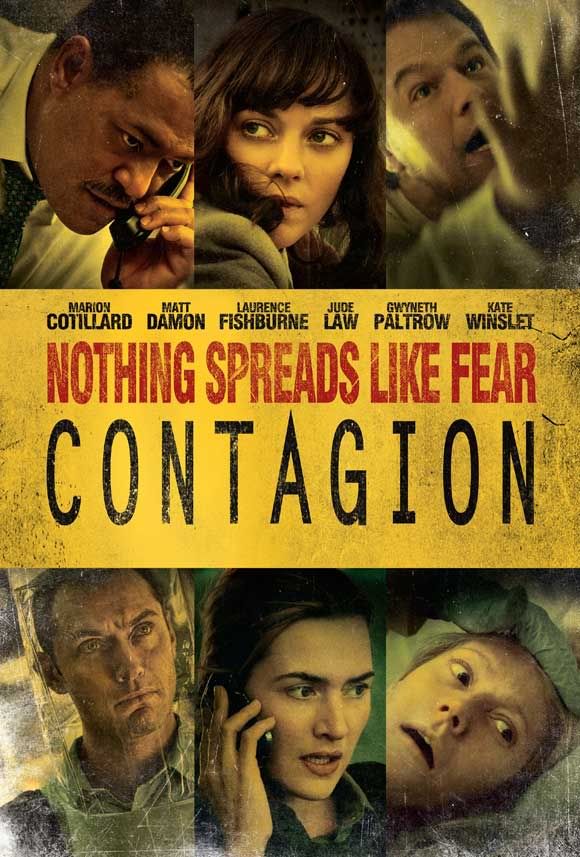 In 2011 Steven Soderbergh directed the movie "Contagion," which provided a rather stark look at how a global pandemic could come about and what it may look like. The following article was written by a consultant for the film.
The information pertaining to this outbreak is coming at a frenetic pace and is nearly impossible to keep up with. With that being said, it is important that we keep a close watch on what is transpiring and allow the Holy Spirit to guide us as we sift through the voluminous reports attempting to ascertain what is true, what is not, what is not being said that should be, and how it all plays into the bigger picture of the satanic end-game aimed at hijacking Adamic mankind.
Lord, please help us.
More to come, Lord willing!
---
*****Update*****
I came across this information after I posted this, and felt it was important enough to serve as an addendum to the post. An official report coming out of China admits to "open speculation" regarding the probable human-to-human transmission of H7N9.
This report from the site Virology Down Under confirms certain mutations have occurred in the H7N9 virus which are associated with the binding and replicating of viruses in the upper respiratory tract, which is what makes a disease contagious.
---
By Aaron Hermann (
Revelation of Babylon blog
)
Please feel free to contact me through my Gmail account. (theultimateplan@)