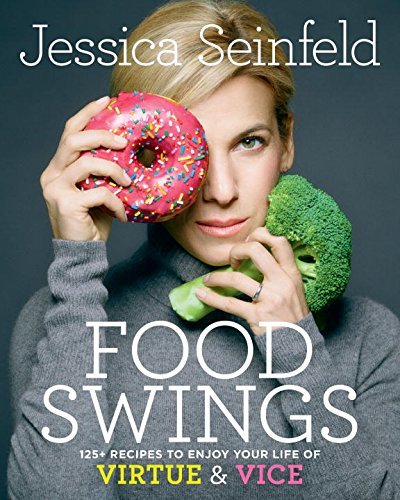 Celebrity comedian Jerry Seinfeld's wife is a celebrity in her own right. She's a philanthropist and author of 3 cookbooks. Her 4th is now available for pre-sale and is due for publication in April 2017. I clipped the following description from her Amazon page.
"Food Swings offers a range of simple and satisfying recipes that speak to both sides of your food brain. Here you'll find the perfect go-to dish for when you want to eat clean or for when you are in the mood for something more indulgent. The first half of the book, "Virtue," provides recipes for your controlled side, while the other half, "Vice," allows for when you need to feel the wind in your hair. All of it is meant to be enjoyed equally in this fun something-for-everyone collection. "
Food Swings - it's an obvious take on, mood swings. The cookbook's cover features two contrasting food items that suggest the virtue and the vice. It's a powerful image for people interested in food.
There's another powerful image presented in the artistic composition that betrays another interest. Can you decode the Occult imagery to reveal what that is?
Update -
See analysis here:
Decoding: "Food Swings" Cookbook Cover