Boy Scouts Flirt With Calamity (2/11/13)
- "
Reeling from a massive negative backlash, the executive committee of The Boy Scouts of America decided to postpone until May its ill-conceived, proposed change to allow openly gay scoutmasters and scouts to participate in Scouting.
"
Boy Scouts release secret child abuse files -- 'the pain and the anguish of thousands' (10/18/2012)
- "
The files, which can be accessed on www.kellyclarkattorney.com, represent reports of Scouts allegedly abused by more than 1,200 different Scoutmasters and other adult volunteers across the country. People will see in the files "over and over again where there is a concern that this material not get out … this will make Scouting look bad," Clark said. Alleged offenders were also being "given second chances," he added.
"
---
Mormons, Gays and the Boy Scouts of America
by Ed Decker - Saints Alive in Jesus - Newsletter - February, 2-13
LDS Doctrines on Morality take another tumble

The 14 million-member LDS Church has 420,977 youths in 37,882 scouting units.

The faith allows chaste gays to hold callings or positions in its organizations, when chosen by local Mormon leaders, and its written guidelines do not exclude Scouting. [Peggy Fletcher Stack, SL Tribune, 1/28/13]

As the BSA sits on the edge of a major policy shift to allow gays to take leadership positions in the BSA, the LDS church has already been doing so for some time. Sort of like having the wolves shepherd the sheep. It is a remarkable change and a bit of a shock. I remember back in the early 1980s when an off-campus, student newspaper called the 7Th East Press did an expose on Homosexuality and BYU. It revealed that as many as one-third of returning LDS missionaries at BYU were engaged in the Homosexual lifestyle. Their exceptional research and publishing the results did not sit well with the "brethren." As I remember, the key students in the report were soon attending other schools.

Back in the 1970s, BYU Campus police followed gay students to gay bars and other such hangouts in Salt Lake City and then, back on campus, brought them in for reprogramming that included electroshock therapy. One of the usual solutions was to marry these youngsters off to a willing coed as soon as possible, convinced this would be the real cure. All it did was totally mess up people's lives even further.

Now gay and lesbian lifestyles are OK on campus and in church leadership positions. This is the same church that took a major stand in supporting Proposition 8 in California. They are going to reap a whirlwind in this major shift in its acceptance of such a non-biblical lifestyle. This new LDS Church, trying to be the fuzziest, warmest kind of welcoming church, s selling out its own standards of morality.

Just a few months ago, The Boys Scouts of America and The Church of Jesus Christ of Latter-day Saints have agreed to settle a lawsuit filed by a Portland man who said they didn't do enough to stop a Scout troop leader from sexually abusing children.

A document filed Nov. 15 in U.S. District Court in Boise said both sides agreed to an undisclosed monetary settlement. The lawsuit alleges the leader of a Boy Scout troop in Nampa in southwestern Idaho sexually abused the plaintiff over three years in both Idaho and Oregon starting in 1967, and that the abuse left him with debilitating physical, emotional and mental injuries.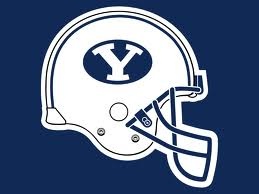 Here's the BYU logo on a football helmet.
Royal
blue. See the phallic arrow in the negative space? Phallic Eye of Horus. The Y is the male chromosome. This is, like the Yahoo brand, a alchemical triangle-in-circle sodomite gateway symbol.
The wrapper appears to be properly labeling the contents.