Aaron received a marketing email from Target and he forwarded it to me because it has a very suggestive subject line and content.
The subject line reads: "Ready to reset? Easy ways to make a bathroom retreat."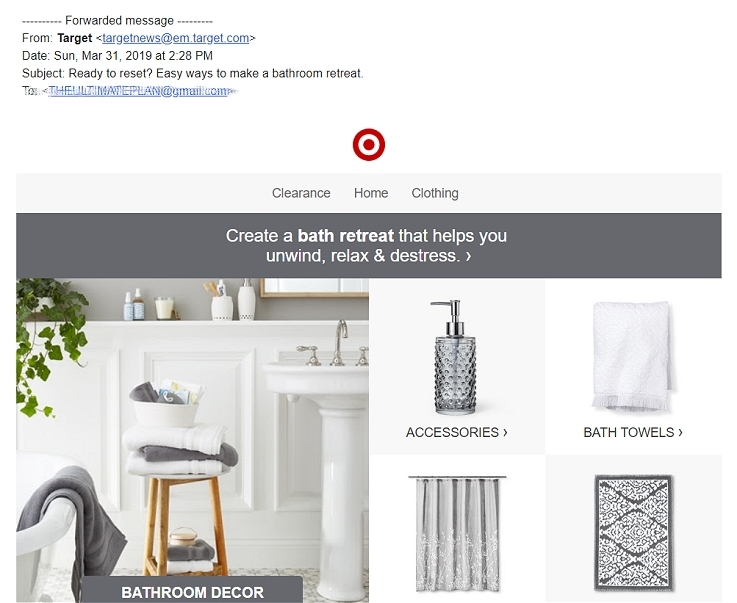 We're anticipating time itself to reset in about 6 months, back 7 years to 2012. The language suggests retreating, turning back into the past.
We have equated this with the unwinding of time in this creation, with respect to the Bezos/Amazon mega ritual. The category header includes the word, "unwind" in connection with the word, retreat.
In the next category, products are featured that resonate with the series of shemitah we give so much of our attention to, which are central to the accounting of the Lord's end-time calendar. No7! The labels state, "Restore & Renew," resonating with the reset of time back into the past, when we will suddenly be 7 years younger, in effect.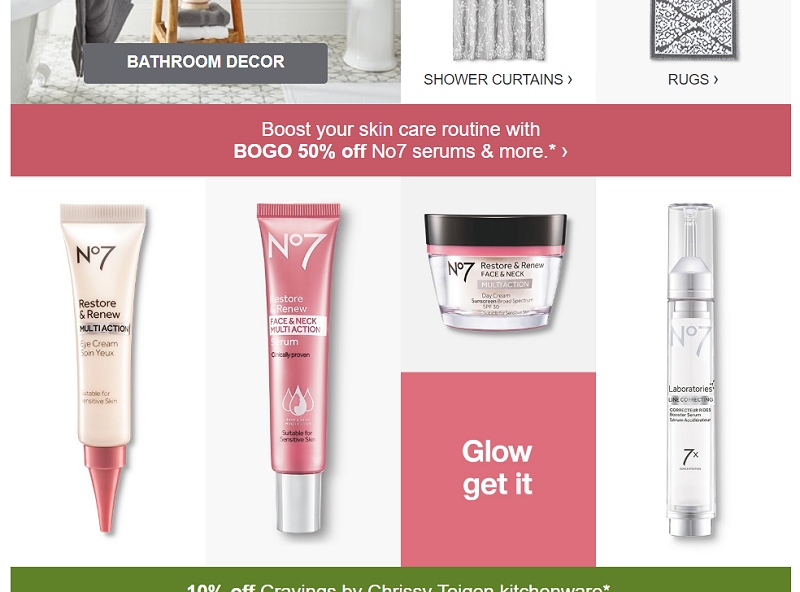 When we read about the special deal (time is money ~ money is time) we learn that there is a 50% off No7 serums. That's a 2 for 1 pricing. Think about it. Right! The shemitah, devoured and devouring, repeating, doubled.
Over the past few years, we have published blog posts and videos on the Target brand and their promotion of Occult imagery that features dimension transiting themes. There is a long thread running.
We continue to see media of all kinds dancing all over this theme of the reset of time and the unwinding of this creation. We continue to be encouraged to persist in our efforts to put these on exhibit and to encourage you to steadfastly persist in well doing. We have no new gospel to promote but rather what we offer is an affirmation of the gospel, as witnesses of the Author's faithfulness. We preach and teach and encourage with the good news of our hope in this radical season where the faith of so many is shaken.
13 Since we have the same spirit of faith according to what has been written, "I believed, and so I spoke," we also believe, and so we also speak, 14 knowing that he who raised the Lord Jesus will raise us also with Jesus and bring us with you into his presence. 15 For it is all for your sake, so that as grace extends to more and more people it may increase thanksgiving, to the glory of God. 16 So we do not lose heart. Though our outer self is wasting away, our inner self is being renewed day by day. 17 For this light momentary affliction is preparing for us an eternal weight of glory beyond all comparison, 18 as we look not to the things that are seen but to the things that are unseen. For the things that are seen are transient, but the things that are unseen are eternal. ~ 2 Corinthians 4:13-18
In closing, we echo the subject line of this marketing email.
Are you ready to reset?