In a recent episode of Marvel's Agents of S.H.I.E.L.D. (7.05: "A Trout in the Milk") we hear this line in a signal moment:
"You're saying the timeline is already broken?"
It's not just that this line is heard in the show, it's WHEN it's heard that makes it notable - as the 13th minute has just ticked over to where 13 appears as the minutes digit of the counter. Thirteen signals the mastery of time. This is the evidence of a kind of magick. TIME-BINDING ritual.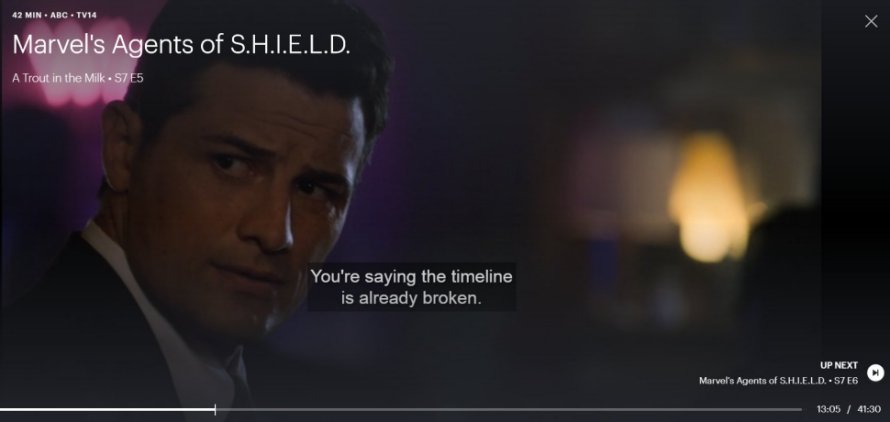 The plot of this entire season of the show, which is claimed to be the final season, is about jumping through time at moments that are not of their own choosing. Their enemies are choosing, "Chronicoms" who have the ability to time their own jumps, exploiting time travel to manipulate the course of history and win their war. The number of episodes of this final season? Thirteen.
Think about it. Media presentations continue to dance all over this theme! Why? There really is a time war. We are living in the war zone and our familiar timeline has been devastated. It's a fight for survival. Does this have your attention? Are you engaged in the fight, beyond suffering as a victim of the carnage? This is bigger than any earthly threat, despite how real these are.
10 Finally, be strong in the Lord and in the strength of his might. 11 Put on the whole armor of God, that you may be able to stand against the schemes of the devil. 12 For we do not wrestle against flesh and blood, but against the rulers, against the authorities, against the cosmic powers over this present darkness, against the spiritual forces of evil in the heavenly places. 13 Therefore take up the whole armor of God, that you may be able to withstand in the evil day, and having done all, to stand firm. 14 Stand therefore, having fastened on the belt of truth, and having put on the breastplate of righteousness, 15 and, as shoes for your feet, having put on the readiness given by the gospel of peace. 16 In all circumstances take up the shield of faith, with which you can extinguish all the flaming darts of the evil one; 17 and take the helmet of salvation, and the sword of the Spirit, which is the word of God, 18 praying at all times in the Spirit, with all prayer and supplication. To that end, keep alert with all perseverance, making supplication for all the saints, ~ Ephesiahs 6:10-18