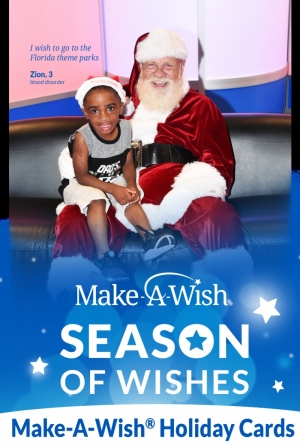 Tis the season for charities to vie for their share of the funds flowing through loosened purse strings. We're not against charitable giving, but we're not as naive as we used to be. Satanists and Occultists know how to make themselves look good, and nothing works quite like a good cover. Remember Jimmy Savile? He was no exception to the rule but rather the rule in this fallen world.
If you give, give as the Lord directs with joy and generosity and not from a guilty conscience or your own soul's empathy or compassion, from which little reward will flow. The road to hell is paved with good intentions, it has oft been said, so leave that construction project to others and be truly noble and righteous, helping others from a heart of love as the Lord Himself inspires and guides.
We've produced another video in the style of other recent ones where the NLP word clusters and symbols are exposed. It's about the Make-A-Wish Foundation's Season of Wishes Holiday Cards promotion. We've titled it, "Santa Gets His Wish" because Santa-anagram-Satan has a little boy on his lap, and sodomite pedophiles love to prey on the innocent and vulnerable as they exploit their conditions for their own gain.
Are we cynical? Well, perhaps a better explanation is that we are not willing to be manipulated by mere shows of sincere caring by those who do so under cover of spell-binding symbol magic and NLP. Let's see what we're looking at and accept what it means. We have a debt of love to pay, as submissive servants of the King of Kings and Lord of Lords, so let's embrace this responsibility and genuine privilege together with joy and diligent effort and serve all those who may welcome our service.
Decoding Make-A-Wish - Santa Gets His Wish
The Make-A-Wish Foundation is the Disney charity, and with all their corporate riches they are still reaching out for more. We've written elsewhere about Make-A-Wish and their Occult branding.
Part 54 - The Sodomite Gateway - Make-A-Wish upon a Fallen Angel
Part 7 - Hidden Signs of the Goddess - AWA / ABA
Make-A-Wish. The title derives from Disney's classic theme song that derives from the animated feature, Pinocchio. We wrote about that back in 2013 in this post:
Pinocchio and Jiminy Cricket, Disney's Monarch "Conscience" Programmer
. "Pinocchio" is Italian and the name translates to, "pine eyes." This is an Occult reference to the pine cone like pineal gland activation toward Luciferian illumination!
The theme of the Make-A-Wish Foundation is the wishing on a star seen in Pinocchio when Gepetto's wish was granted by the blue fairy and subsequently commemorated in Jiminy Cricket's song. Stars are a metaphor for angels. Gepetto was a pagan idolator and his petition was made to the fallen, whose magic was brought forth in a modeling of how Isis brought forth Horus, with a "magic wand," the substitute phallus of Osiris, animating the puppet of dead wood.
And beware lest you raise your eyes to heaven, and when you see the sun and the moon and the stars, all the host of heaven, you be drawn away and bow down to them and serve them, things that the Lord your God has allotted to all the peoples under the whole heaven. ~ Deuteronomy 4:19
All promotions encouraging others to wish upon a star are evil. Don't be deceived.